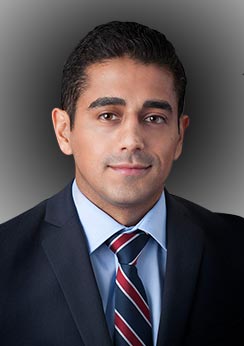 Shawn Kumar, MD
Board Certified Orthopaedic Spinal Surgeon
Interventional Pain Management Physician
Double Board Certified Pain Management and Anesthesiology
Diplomat of the American Board of Anesthesiology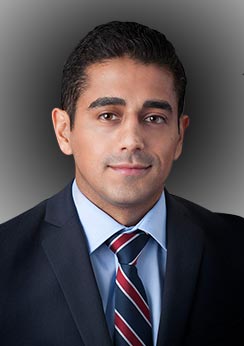 Dr. Kumar graduated from Wayne State University School of Medicine with high distinction. He completed his anesthesiology residency at the Icahn School of Medicine at Mount Sinai in New York City, a US News Top Hospital Honor Roll Recipient. He went on to complete a multidisciplinary fellowship in Interventional Pain Management also at Mount Sinai Hospital. Dr Kumar is double board certified in Anesthesiology and Pain Management.
Dr. Kumar is highly specialized in treating pain throughout the body. His areas of interest include spinal cord stimulation, radiofrequency ablation and rhizotomy, chronic pain of the neck and back, CRPS, and headache/migraine treatment. He has been active in research and has several publications, as well as multiple presentations at national conferences. His research is focused on the field of spinal cord stimulation, CRPS, and multimodal approaches to pain management.
Dr. Kumar provides compassionate, personalized, patient directed care to all of his patients. He has a strong understanding of the effect chronic pain can have on a person's physical, as well as emotional, wellbeing. He puts a large emphasis on communication and believes in a multifaceted approach to alleviating pain including interventions, medication management, formal and self-directed active forms of therapy. A comprehensive evaluation and treatment plan is instituted for every patient, using the most cutting edge, current, evidence based techniques. His goal for every patient is to alleviate pain so patients can improve functionality and return to the activities they love.
Interests
Spinal Cord Stimulation, Neuromodulation
Radiofrequency Ablation
Chronic Regional Pain Syndrome (CRPS)
Complementary and Alternative Medicine
Head and Neck Pain
Headache and Migraine
Board Certification
Double Boarded - Anesthesiology and Pain Management - American Board of Anesthesiology
Clinical Practice
Illinois Spine Institute, S.C. - 09/2018 – Present, Interventional Pain Management and Anesthesiology
Elmhurst Hospital Center - 09/2017 - 08/2018, Anesthesiology
Hospital Affiliations
Centegra Health System, Northwestern Medicine - Huntley, IL
Alexian Brothers Health System, AMITA Health - Elk Grove Village, IL
St. Alexius Medical Center, AMITA Health - Hoffman Estates, IL
Education
Icahn School of Medicine at Mount Sinai - New York, NY
Interventional Pain Management Fellowship; 2017-2018
Icahn School of Medicine at Mount Sinai - New York, NY
Anesthesiology Residency; 2013-2017
Wayne State University School of Medicine - Detroit, MI
Doctor of Medicine, With High Distinction; 2009-2013
Wayne State University - Detroit, MI
B.A. Biological Sciences; 2006-2009
PROFESSIONAL ORGANIZATIONS
American Society for Regional Anesthesia and Pain Management - Active Member
North American Neuromodulation Society - Active Member
American Society of Anesthesiologists - Active Member
American Board of Anesthesiology - Diplomat, Active Member
Honors
Alpha Omega Alpha (AOA) Medical Honor Society – Wayne State University School of Medicine
Overall Honors, Years I – III – Wayne State University School of Medicine
Phi Beta Kappa Honor Society – Wayne State University
Summa Cum Laude Graduate - Wayne State University
Dean's List – Wayne State University
Research & Publications
Cohen, M., Malhotra, A. (2018). Dorsal Column Stimulation for Lower Extremity Pain in a Paraplegic Patient, Poster submitted to: North American Neuromodulation Society; Las Vegas, NV. 01/2018
Patel, D., Dang, S. (2018). Bilateral L4 L5 DRG Stimulation to Salvage Failed Dorsal Column Stimulator in CRPS Patient, Poster submitted to: North American Neuromodulation Society; Las Vegas, NV. 01/2018
Cohen, M., Danesh, H. (2018). Using Spinal Cord Stimulation to Treat Tremor in Chronic Regional Pain Syndrome Type 2, Poster submitted to: North American Neuromodulation Society; Las Vegas, NV. 01/2018
Khelemsky, Y. (2016). Multimodal Perioperative Analgesia. Anesthesia Departmental Grand Rounds; Icahn School of Medicine at Mount Sinai, New York, NY. 08/2016
Zerillo, J. (2015). Pneumothorax Presenting as Delayed Emergence During Prone Cervical Fusion Poster presented at: American Society of Anesthesiologists; San Diego, CA. 10/2015
N. Campbell, S. Ikezi, Acute Pain Management in the Obese Patient. Topics in Pain Management. 2014;30(2):1-10. doi:10.1097/01.tpm.0000453856.19296.e3. 09/2014
D. Goldin, S. Emerson, M. C. Farah, F. Sokhandon, K. Nandalur, S. Kumar, D. G. Mezwa. "Shielding Artificially Increases the Attenuation of Water": Study of CT Gradient Attenuation Induced by Shielding [CT GAINS]. Academic Radiology 2012; pii: S1076-6332(12)00420-5. 03/2012